The 39th Int'l Agriculture, Aquaculture & Agro-Industry Show
The International Exhibition and Forum to Support Growth, Investment, and Food Production in the Kingdom, Attracts Participants from 45 countries to Riyadh, from 17 to 20 October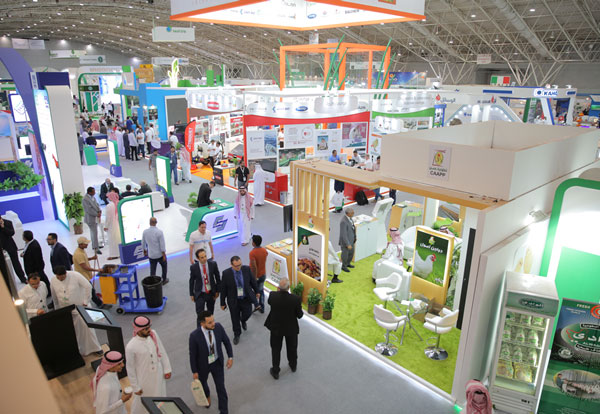 Saudi Agriculture 2022 and the concurrently held Forum, under the patronage of the Ministry of Environment Water and Agriculture (MEWA), have attracted more than 450 companies from 45 countries, that includes 11 country pavilions from around the world.  
The 39th edition of the Saudi Agriculture Exhibition, is the Middle East largest and most influential for the agriculture industry, has surpassed all previous records this year, covering over 18,224 SQM displaying latest technologies and agriculture solutions. The event will be held once again at the Riyadh International Convention and Exhibition Center, from 17th October to 20th October.
The exhibition and co-located conference focus on serving KSA national priorities as outlined in Vision 2030 and MEWA directives, in particular food security and expanding agriculture investment, efficient water utilization, and sustainability issues of the sector.
Mohammed Al Hussaini Executive Consultant of Riyadh Exhibitions Company (REC), the Organizers of the event, announced that "NEOM- agriculture sector professionals are taking a leading role in the exhibition and related conference, presenting their vision and activities toward the latest agriculture technologies for the future of the sector. Technologies that will transform the way food is grown and consumed in desert-like environments. NEOM strives to become the world's most food self-sufficient region, able to nourish residents with diverse, healthy food whilst preserving natural resources and reducing waste, as well as provide an exceptional model for the future of the sector in the Kingdom and worldwide."
He also added that "Other sector prominent Kingdom organizations are also showcasing key technologies and sustainability solutions for the agriculture sector. SALIK, the PIF organization responsible for enhancing food security and sustainability for the Kingdom is participating.  SABIC and Maaden will include latest agriculture fertilizers amongst their solutions, TASNEE and its affiliates such as NNTC will showcase their exceptional contributions to improving the efficiency of their water usage DIBAL soil additive that provides more efficient use of water in soil by the plants, the kind of solutions MEWA has called for and has encouraged. "
The diversification and balanced agro food development is addressed by participants such as the Agriculture Development Fund (ADF), Saudi Organic Food Association (SOFA), United Feed, and Al Khorayef, who presents a large exhibition of latest farm technologies and agriculture machinery and solutions.
Al Hussaini, further noted that "Given global events and disruptions, food security and sustainability is a more important national objective than ever. The 39th edition of Saudi Agriculture importance as a national and international community platform to collaborate in sector development, share last technology, and build new partnerships has become essential. The exhibitors and visitors, through their collaborations support the sector's development to keep pace with the latest technologies towards achieving a sustainable national agricultural sector, while conserving the Kingdom's natural resources, in accordance with the Kingdom vision 2030."