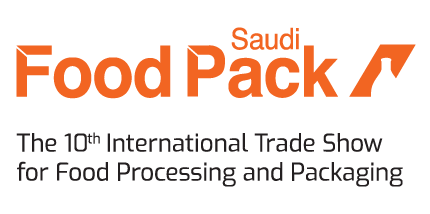 In addition to food products presentation andpromotion, Saudi Food-Pack showcases a vast arrayof equipment and solutions from manufacturersand distributors of tools, machinery and servicesthat are essential for food production and packing,as well as their display in stores and outlets.
• Packaged foods sales are valued at US$ 19.7 Billion.
• The bottled water market is valued at about US$ 9.6 Billion.
• Livestock and Poultry market is valued at US$ 5.2 Billion.
• Aquaculture is one of the fastest growing food production sectors in the Kingdom, providing more than half of the seafood consumed.
• Bakery Equipment
• Filling Machinery
• Packaging Equipment
• Food Processing Equipment
• Industrial Packaging Equipment
• Packaging Materials & Supplies
• Wrapping Machinery
• Industrial Refrigeration Technologies
• Consumer Products Packaging Equipment
• Food Preservation and Canning Technologies
• Industrial Refrigeration Technologies
• Packaging Equipment
• Preservation and Food Packaging Technologies
• Packaging Material
• Refrigeration Equipment
• Safe Storage Equipment
• Dairy Production Equipment
• Canning Equipment
• Preservation and Canning Equipment
• Dates Packaging Equipment
• Chilled & Frozen Foods equipment and services
• Display and presentation POS equipment